As Tax-Day approaches for some, while others look forward to their refunds, we attempt to brainstorm money saving ideas for our customers.  Therefore, we are going to have a Sales Tax Refund Week so that everyone gets a refund and to help out those who want to start their spring projects now (we will pay the sales tax for all purchases).
When I think of remodeling, I think of a puzzle and how to put it all together.  Recently, we totally remodeled a bathroom.  The client needed to add a lot of storage, so we built a cabinet on the tub deck which turned out to be so clever.  We replaced all the cabinets and also added a tower on top of the base cabinets for more storage and a commode tower is in the process of being made.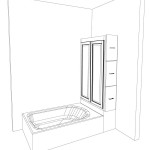 The wallpaper was stripped and an artisan wall finish was applied by our own on-staff faux artist.  The client worked closely with her to determine the exact shade of blue she wanted.  She also wanted additional accents hand-painted on top of the wall finish while we went about our business finding tile and granite to upgrade the bathroom.  We then changed out the shower door to a new frameless glass door.  The puzzle is finally complete and we now have a very happy customer.
 Let us know if we can help you with any projects you have coming up. And for this week, you can use your tax refund in our store to buy those accessories, furniture and art items that will complete the room, tax free!