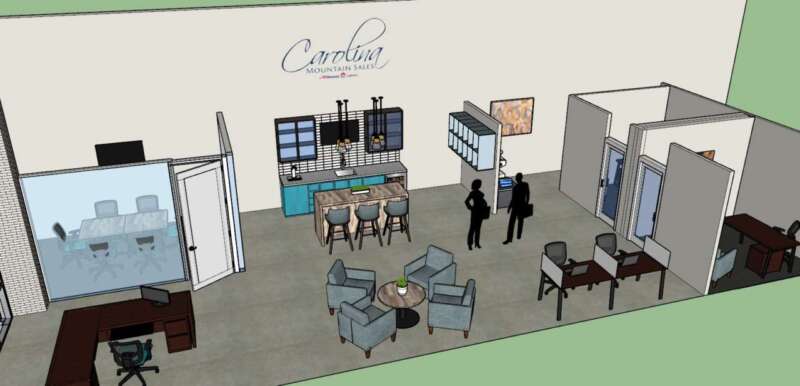 We love design, whether it is residential or commercial. Our Commercial Design projects have been in Winston-Salem, Raleigh and Asheville. When they are implemented, it is always a pleasure to see the finish work that we imagined. Our rendering depicts what we envisioned for the Asheville project.
How do you begin a commercial project? We start the same way as a residential project. We take the floor plans and scale the best layout possible to utilize the space effectively. We talk with the office manager/project manager and figure out what their needs are. For our Mountain Commercial project, it was be a small real estate office situated in the Town of Asheville in a historical district. There is a bakery and coffee shop beside the office and historical homes across the street, intermingled nicely into the architecture. We had the view to start with and inspire us.
Their needs are more utilitarian, but we made it interesting. The cabinets are an aqua distressed base and the top glass cabinets are brown to coordinate with the handcrafted island we designed. The wood for the island is a reclaimed walnut wood with a metal foot base. Hardware for the cabinets are branches of distressed gold to coordinate with the pendants and the faucet. Old Gold is the best accent for the aqua glazed cabinets and will look good on the brown/gray upper cabinets. We planned the carpet to have a stria of aqua mixed with grays and brown. Our fabrics for the club chairs in the lounge coffee area also coordinate with aqua and navy. There are three coordinating fabrics. One for the office/conference chairs, one for the club chairs and one for the barstools. All of the fabrics have a navy blue/aqua feel. We suggested paint colors of Classic Gray by Benjamin Moore. We also suggested the heating vents exposed in the ceiling to be Classic Gray and the tall upper ceiling matched the metal around the glass office windows, Kendall Charcoal Gray also by Benjamin Moore. I think our rendering speaks all of the above, but an explanation sometimes best describes how we go about coming up with our ideas.
Beginning an Office Project is as simple as finding that one inspirational wood or fabric color you like and being in the mountains made it easy. For me, it was the cabinet wood samples and the aqua glazed color.