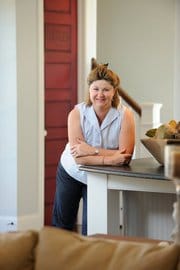 This blog is a follow up to Winston Monthly featuring my house for January.   I fell in love with my house before we ever met.  All I had to see was the frame and I knew this was my home.  I was working on the house next door and the builder asked me to look at his project.  Once I saw this project, I loved the design and wanted this as MY home,  so I shook hands, broke the news to my husband and we have been enjoying our home for six years now.    My home is more Cape Cod  than any other home in the neighborhood.  Most of the other homes are European in Style.  Our front porch has columns trimmed in white with a certain symmetry to it.  I've accented this with antique white wicker furniture so it feels like a Veranda.   This Cape Cod style home has 4,000 square feet and is deep on the lot.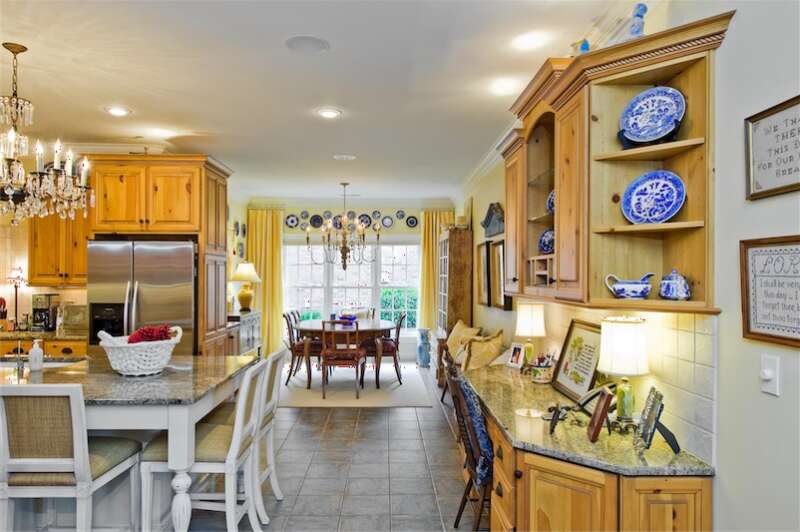 Coming through the courtyard there is a trellis with an antique English statue bird bath.  In the summer time, beautiful Wisteria wraps around the trellis and blooms several times with magnificent summer color.   Our family enjoys having meals  on the back covered porch watching nature explode during the Spring, then the warm comforting colors of Fall.  The brick fence provides complete privacy for this special time together as our dog, Chewy, loves to dig around the wall for critters. 
The inside has been decorated with collected antiques from our travels, inherited pieces and items I could not resist.  It is very eclectic, but flows comfortably.    In a decorator's style, in my home each bedroom has a name.  My daughter's room is called French Chic because we took an antique French daybed headboard and turned it into a king size bed.  The bed came out of a French apartment from downtown Paris (so the dealer said).    The theme and colors were pulled together from a Vintage Sofa and Chairs given to my daughter by her grandmother and my mother.   It has the original fabric of white, pinks and greens.  The walls are a light shell pink with green English floral vintage Bella Notte Bedding that we sell at the shoppe in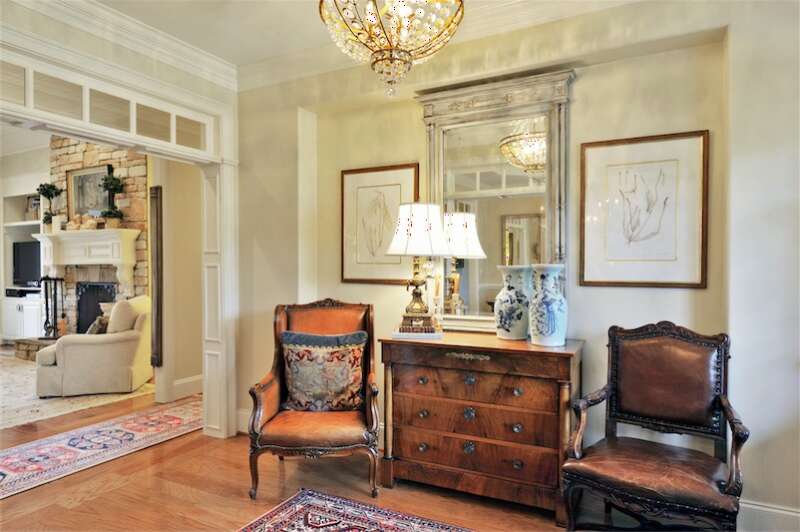 Clemmons.  Lots of pillows of course.  Antique French mirror with a distressed cottage  dresser is used for storage.  An original oil painting hangs over the bed perfectly pulling  the theme together.  French lace curtains and a crystal French chandelier complete the ensemble.    
 Our home works perfectly for our lifestyle accommodating guests and family from out of town easily.  I love the nice mixture of style and comfort using the combination of antiques and new creating  something more realistic and comfortable rather than perfect.
Thank you Winston Salem Monthly for visiting my home and taking some magnificent pictures!  I'm going to go and light a fire, relax and enjoy this cold winter day…
For article go to: http://www.winstonsalemmonthly.com/index.php/departments/stepinside/