North Carolina's Premier Interior Design Firm... Define Design.
There's no place like June DeLugas Interiors
About June DeLugas Interiors
June DeLugas Interiors is more than just a beautiful place to shop.  The eclectic showroom offers a  variety of home furnishings, lighting, rugs and carpet, accessories, and antique.  Additionally, custom-designed and hard-to-find items can be ordered from over 500 manufacturers, many of them located here in North Carolina.
June DeLugas Interiors brings a zeal for color, texture, art, and organic flow to a room by offering complete residential and commercial design consultations to create a space you'll love.  From traditional to cutting edge, June DeLugas Interiors will make your custom interior design experience come alive by taking your vision and making it a reality.
The award-winning collaborative team creates gorgeous interiors that are timeless.  Each of our designers bring a unique skill set.  Our team utilizes their skills and creative vision to produce unforgettable high design.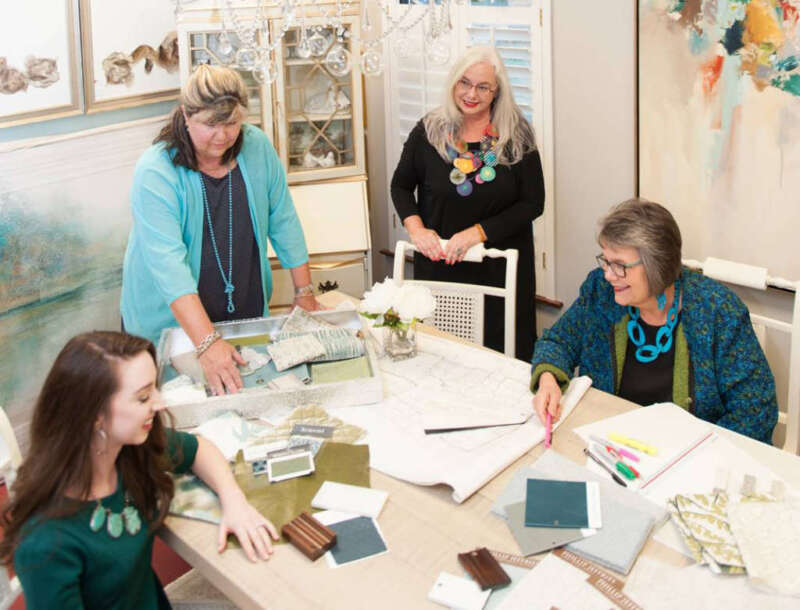 Awards:
June DeLugas Interiors has won many awards for outstanding interior design services over the years, including these recent recognitions:
Platinum Award: Parade of Homes 2018, 20l7, 2016, 2015, 2013
Reader's Choice Award-Best Interior Designer: 2019, 2018, 2016, 2015, 2014, 2013, 2012, 2011
Best of Houzz- Service: 2018, 2017, 2015
Best of Houzz- Design: 2018, 2017, 2014
20l6 Distinguished Associate Award, Home Builder's Association
Gold Award: Parade of Homes: 2002-2015, 2019
June is also a member of the Interior Design Society, the Home Builders Association, the Better Business Bureau, the National Federation of Independent Business.
Consulting and Accessorizing Services By Appointment Only.
Call (336) 778-1030 for details.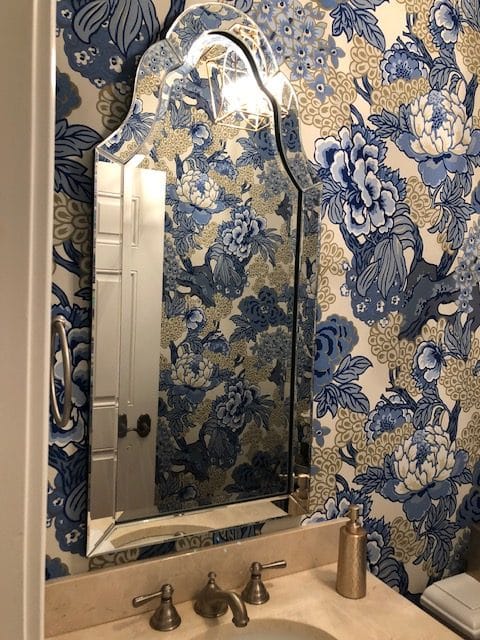 Wallpaper is back in and is a great way to liven up your room.    From interesting geometrics to painterly prints, all can be a positive addition to your room.  We are dealers for multiple brands and mainly because we need the samples as tools for our projects.  If...
We are so blessed to be hired for both styles.  Currently, we are working on two commercial projects.  We started on one of the commercial jobs, and it is so much fun.  It is located in Asheville, and we will be going there to see the space soon.   Asheville has it's...
June is so very talented and wants to make her clients happy. Everything she touches is absolutely gorgeous. Would recommend her again and again. A true professional!
Vicki R. Writing an updated on a project June DeLugas finish for us on June 28, 2019. Our gorgeous house is finally our dream come true. June was a pleasure to work with because she listened to my ideas and brought them to life!! The colors thorough out the house flow so beautifully together. The comfort of the fabric on the dining room chairs is my favorite. I would highly recommend June and her staff to design your home into the dream home she made mine.
Diane O.