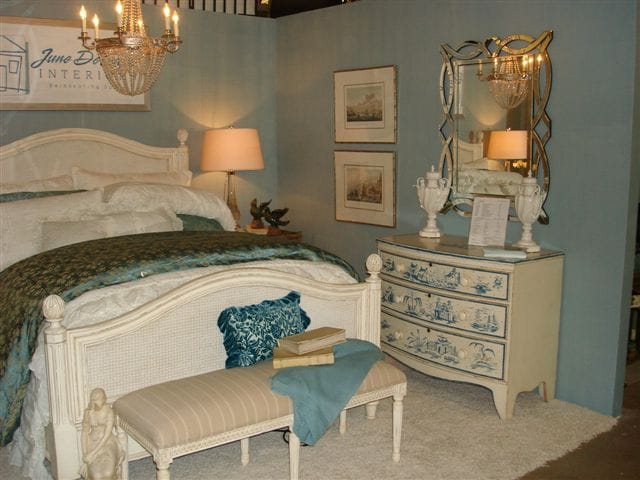 Tomorrow is the last day of the Triad Home and Garden Show. What an amazing Saturday with the folks stopping by our booth. If you don't have Sunday plans, take the family – there's so much to enjoy. Trends in decorating, landscaping, remodels and new homes or just meeting all the local businesses here at the Benton Convention Center.
Folks loved our custom made window treatments, our custom wall linen finish and the mural window that we painted to make our room feel like a real space. Everyone loved the Bella Notte Linens, our Hickory Chair bedside tables and so many people mentioned our Lead Glass Lamps that are very clean line and how well they fit with the traditional vintage feel of the booth. It's so nice to hear people say they felt right at home in our space, made all the work of setting it up worth it! Our Schonbek Chandelier was mentioned by every single person and we may have an interested party in purchasing it. Spring and this show brings such enthusiasm from people – everyone's ready to start new projects in their home. There were many interested in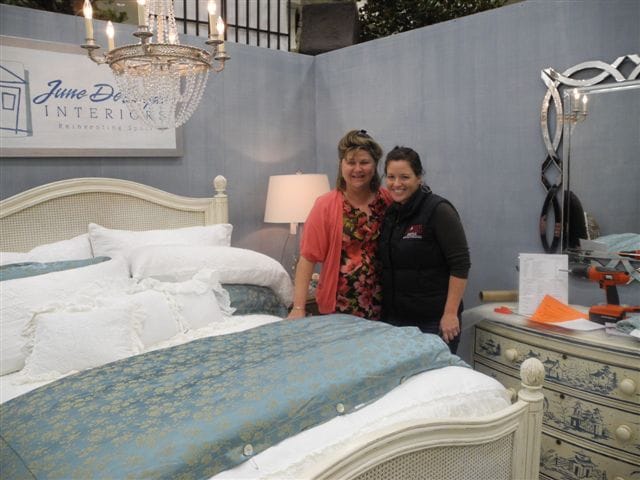 building this year with is exciting. This is an event I look forward to every year, not just meeting all the great people but the transition into spring. Remember everything in our space is available in the shop, if you saw something you liked, just give us a call and we can help you with your new spring projects!
Hope to see you today at the Triad Home and Garden show!