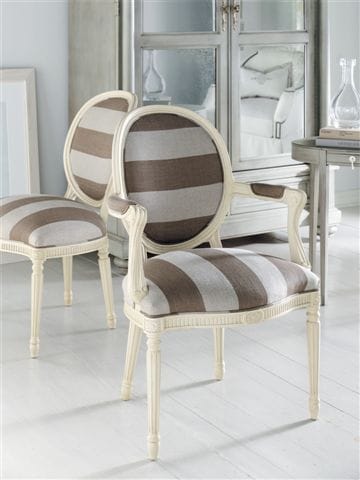 Above all, a chair needs to give us good back support. This doesn't mean it has to have a high back. In fact, some high backed chairs can be very uncomfortable. The support comes from the shape of the back (ideally slightly curved to the front at the seat level and the size of the seat.) Chairs with arms are very comfortable, but they do take up more room around a table. It is also better for the arms to fit neatly under the table otherwise the back support can be lost. You should really test out the construction of the chair as it will need to support people of different sizes.
A set of dining chairs can be the second main fabric consideration in a room, so whether you are thinking of a fully upholstered chair or a chair seat in fabric, what you choose should be a feature in terms of color and pattern. Use new upholstery to bring them into scheme. Pay close attention to the detail on fully upholstered chairs. Look out for good style details such as piped edges, studs around the seat edge and simple back buttoning for added interest.
Traditional styles are coming back gracefully with an artful mix of modern fabrics and finishes. If you feel overwhelmed when making these kinds of decisions, hire a professional designer. Your money will be well spent.
Speaking of money well spent; don't forget to visit our store today from 10:00am until 8:00pm. Today is our "Royal Treatment" event. Not only are there many exciting activities going on, 10% of anything you purchase today will benefit The Triad Affiliate of the Susan G. Komen foundation.