One of our many pleasures has been designing and decorating our client's getaway homes. The photos of this condo tell part of the story and I am going to try to tell the rest. Elizabeth, my dear employee and I drove to the North Carolina Coast to spend several nights to receive the furnishings and to set up a condo unit. The condos were built in the 70's. The home owner removed all the walls and started over with the remodeling process. We chose all the paint colors, cabinets, tile, granite, etc and proceeded to choose all the furnishings. There were three floors, a basement with two bedrooms and a den and a garage, a middle floor which has the kitchen, dining and family TV area and the second floor had two bedrooms.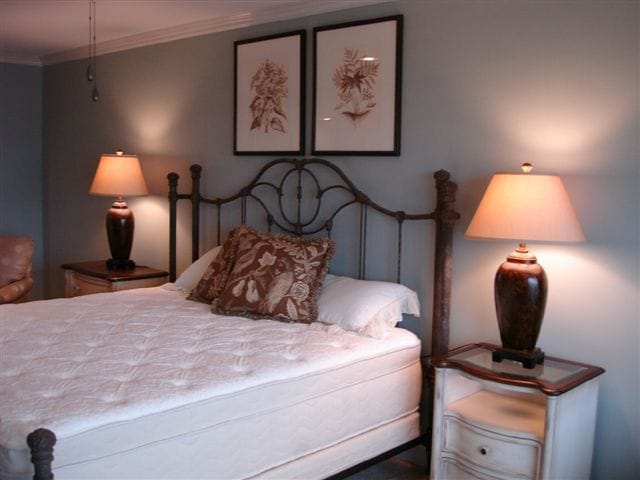 The master bedroom was remodeled large enough to fill one side of the second floor. We chose a calm blue color for the master, wrought iron bed, white bedding and a few brown botanicals over the bed. There were two canvas colored chairs with a slight pattern of sunbrella fabric at the sliding door for the owners to cozy up together to watch the boats and our favorite, egrets. The other bedroom on the
second floor was their l4 year old son's. We ordered a bright blue coverlet for his bed and a warm tan color for his walls. We slightly tinted the ceiling in his room to make it cozier. The light was bright coming off the water. The two basement bedrooms were made to accommodate as many guests as possible. Bunk beds in one room with yellow and green coverlets, queen bed in another bedroom with coral bedding. The third room was made into a den area and was furnished with a TV, small kitchenette and sleeper sofa.
I hope I have aroused your imagination because this was paradise for us. We had so much fun using colors across the spectrum for 4 bedrooms and a den with a colorful sleeper sofa. The best part was the weather which was fantastic because it was April, and we kept the doors opens with the breeze blowing straight through the condo the entire time. When I want to take my mind off of something that is bothering me, I go there and revisit how wonderful the entire trip was to us in my mind.